"Most fun I've ever had playing piano"
"Improvisation is no longer a mystery"
"I'm comfortable enough jamming with friends"
"Always wanted to play by ear and improvise. Now I can!" 
Piano Lessons Portland Oregon
Adults & Children
Piano & Keyboard
Beginners Welcome
Blues Piano for Adults
Beginning adults students will find Blues Piano fun, and a great introduction to piano. Adults who already play will discover that Blues will renew and invigorate their passion for piano. A comfortable and casual environment is ideal when learning to play piano.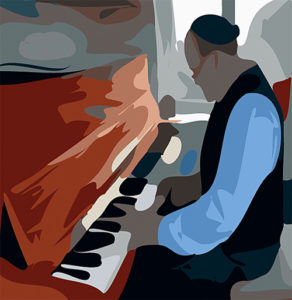 The pianos lessons are yours. You decide how you want to use your time. Along with Blues, we might work on some other areas of music including: reading music, playing by ear, theory, songwriting, composing, arranging, jazz, classical, pop, new age, folk, and ethnic music. If you like to sing, learn how to use chords to accompany your voice.

Blues Piano for Kids
Playing Blues Piano is perfect for children; they take to it immediately. Kids recognize the playful and spontaneous nature of this music. Children like to experiment on piano, and Blues Piano gives them the perfect venue to engage their imagination. Music develops creativity and original thinking, and is an indispensable part of their education.
Children have natural musical ability and delight in playing. The key is to make music a part of their world. Learning to play piano develops physical coordination, and visual, aural, timing and language skills. Students feel a grand sense of accomplishment when they can sit at the piano and play effortlessly.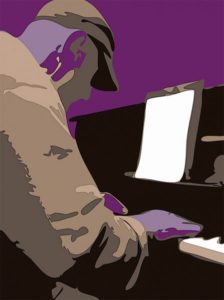 What is Blues?
Blues is an innovative all American music. It's a simple 12 bar progression of chords and improvised melodies. Blues piano is a type of jazz, and very suited for beginner piano players. The influence of Blues and Jazz music is everywhere. Some popular Blues players are: Ray Charles, Count Basie, B.B. King, Eric Clapton, Oscar Peterson, Thelonius Monk, Taj Mahal, Dr. John, Muddy Waters, and Mose Allison.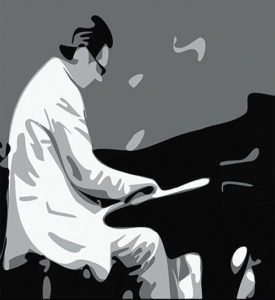 Playing Blues Piano can evoke many moods and feelings.The ever changing swirl of textures can be mellow, exhilarating, intriguing, stimulating, graceful, riveting, electrifying, captivating, playful, and revitalizing. Piano Blues is quite a bit different from Blues on the guitar. On the piano, Blues Piano is generally more lively, doesn't requite a singer, and can be played solo, or with other players.
There are many 'How to play Blues' Piano books available. Learning to play blues piano from a book can be frustrating and confusing, and difficult at best. However, learning to play when taught person to person can be a quick and effective way to learn.
Getting Started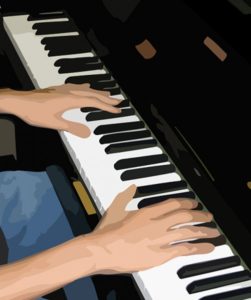 If you have never played piano before, we'll start right at the beginning. If you already play, we'll pickup at a point that suits you. Once you learn the 12 bar blues chord progression and the blues scale & rhythms, you'll begin playing the Blues. 
I will lead you through all the steps to learn to play solid blues piano. In a short time, you'll be playing chords in your left hand, and improvising with your right. I have taught many hundreds of people to play Blues, with a modern, easy to understand approach.
Students find they learn to progress rapidly, while mastering their playing abilities. Students who have never played piano before will find Blues Piano to be a delightful and enjoyable introduction to piano. Those who already read music will quickly learn to improvise and play Blues. Those who are self taught and stuck in a rut, will enjoy finding a new style of playing. If you thought about learning to play Jazz Piano, but found it too hard, consider learning Blues.
The Lessons
Every student is unique. I guide each student's course of lessons in a direction that suits them. Through the use of modern teaching methods, students can easily visualize musical ideas that evade traditional methods. You'll quickly get a sense of the process of learning to play Blues Piano. Some students will want to work only on Blues, others will want to explore other music genres. What matters is that get a great musical experience and enjoy yourself.
Our Blues Piano lessons can include:
Basic 12 Bar Blues Introduction
Learn Chords The Easy Way
Swing Rhythms
Walking Bass Styles
Boogie Woogie Styles
New Orleans Styles
Ragtime & Stride Piano Styles
Riffs Melody Development
Lead Sheets & Jazz Styling

The Right Teacher for You
Finding the right piano teacher is essential. The right teacher should be a good listener, shape the lessons according to each student's needs, and enable students to be comfortable with their new endeavor. The piano instructor should create a supportive, relaxed learning environment. Beginning students should feel free to express themselves, be curious, and ask lots of questions.
Creativity and individuality are encouraged. Many of my students are complete beginners. This is great! Starting piano lessons or keyboard lessons from the beginning insures a thorough introduction to all aspects of playing piano.
I start students as young as 4, and have had students in their 80's begin lessons as well. Any age is a great age to begin piano lessons or keyboard lessons. Some teachers present lessons as if we're still in the 17th century. Not here! Students will find a modern, effective, and fun teaching environment. 
Piano Lessons or Keyboard Lessons?
Many people own keyboards instead of pianos. A keyboard can be a fine substitute for a piano. Learning is the same on a piano or keyboard. Probably half my students own pianos, the other half keyboards. If you don't yet own an instrument, I can make some useful recommendations.
By blending traditional materials with modern teaching methods, my lessons explore a global music perspective: European Classical, American Blues, Jazz & Gospel, Modern Pop, New Age, Rock, World Music, and Folk Songs from around the world. When you learn to play piano or keyboard, in addition to your playing skills, you will gain a knowledge of all aspects of music.

Other Piano Instruction
Students can also learn other types of musical instruction:
Classical, Popular, Jazz, Gospel, New Age, Ethnic, Folk Music
Learn To Accompany Singing
Learn To Play By Ear
Learn To Arrange Music
Songwriting & Composing

Info on other Piano Styles

The Studio
My Portland studio is a great environment in which to learn music. Private lessons afford each student maximum attention. Classes are held at a relaxed pace. Lessons can be 1/2 or 1 hour. There are two acoustic pianos, and a keyboard.
The easiest way to get started is to jump right in. Call to set up the first month of lessons or discuss your interests in music. I'll explain how I teach and answer questions you have. Call me at 503-253-8021. Parking is conveniently provided, there is a studio waiting room, and a large coffee shop next door.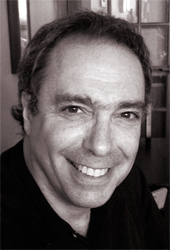 Norm Zarr has taught piano to people of all ages for over 25 years. After studying music in New York City, he founded a music education software company and was a pioneer in inventing recording and studio tools for professional musicians. He spent years as a sound-designer, creating synthesizer sounds to be used in recordings for CD's, T.V. and Film.
As a composer, his original music has been featured on numerous television shows. His compositions span all genres, from World and Ethnic music to Jazz and Blues.
He's also performed piano professionally. He currently resides in Portland, Oregon where he teaches piano and composes music.
Norm Zarr has been awarded Two Platinum Records
His original music has appeared on these television shows: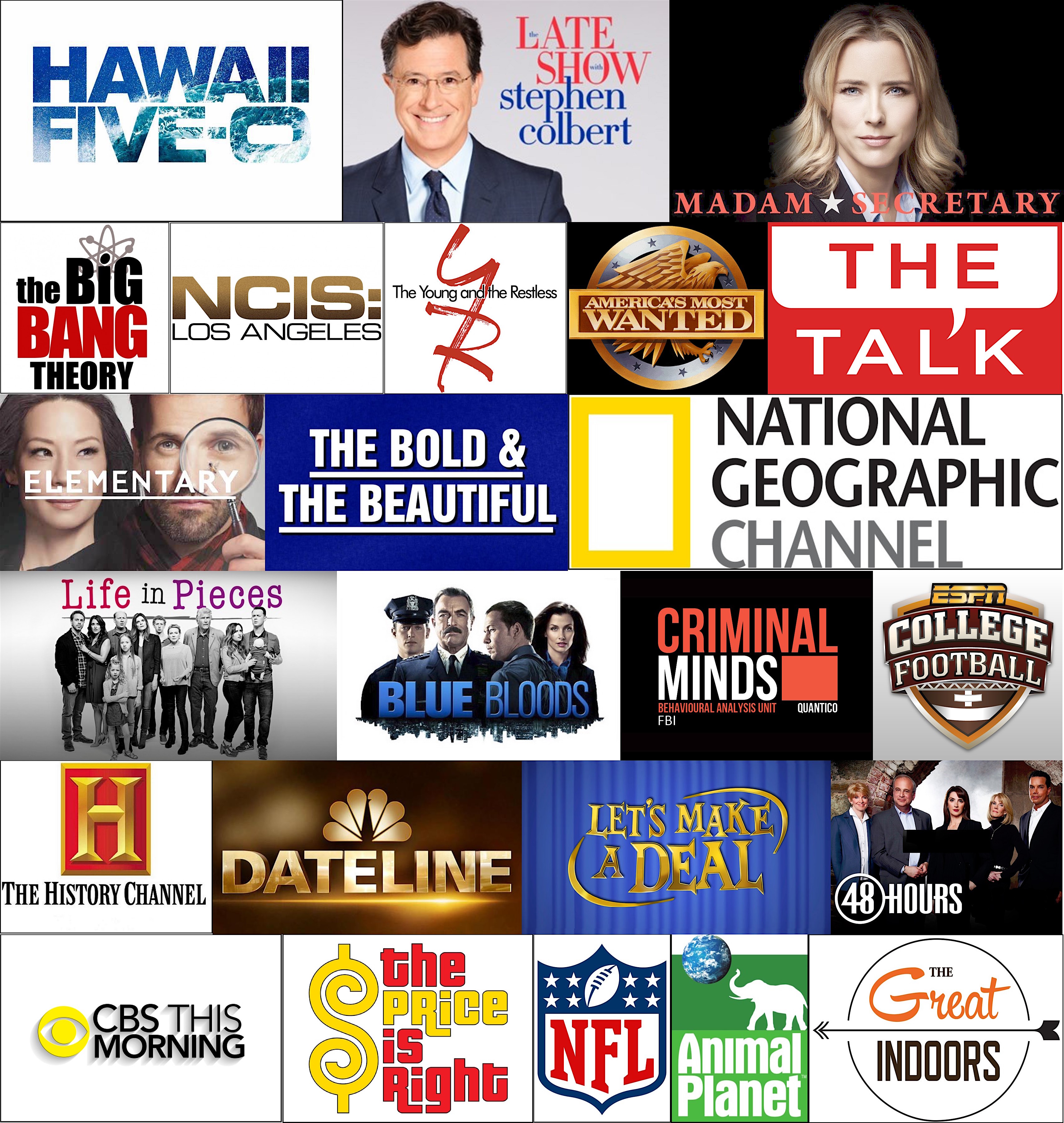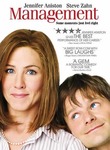 When lead actor Steve Zahn was preparing for his role, requiring him to play a keyboard in the recent movie Management, his production team arranged for him to study piano with Mr. Zarr in preparation for his role. The movie also stars Jennifer Aniston.